AWARE
Engage readers on multiple platforms with rich stories of women's history in Singapore
The Association of Women for Action and Research (AWARE) is a non-governmental organisation in Singapore concerned with promoting gender equality, removing gender-based barriers.

To celebrate Singapore's 50th anniversary of Independence, Minitheory helped AWARE launch a responsive website on the history of the women's movement in Singapore.
The content is divided into two main features: a timeline that allows the user to explore key moments in the journey of women in Singapore, and various themes which explores the story of the women's movement as told by text, photos and videos.
Details
Launched during SG50 in 2015
Storytelling website
Services
Interaction design
Art direction
User Interface design
Front-End Development
Credits
Pizza Yap
Sheldon Cheng
Natacha Ruivo
Sylvia Ng
Alan Tay


The main focus during Interaction Design phase was to create an engaging way for users to explore and read the content on all devices. The content for this project is heavy and dense, with many historical events. In order to bring a playful and magical side of reading the content, we created an interactive timeline which allows the user to jump through the years.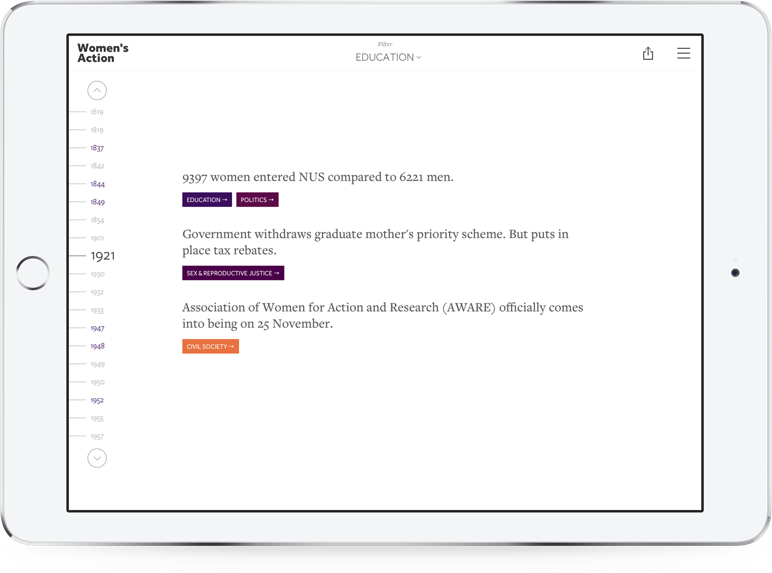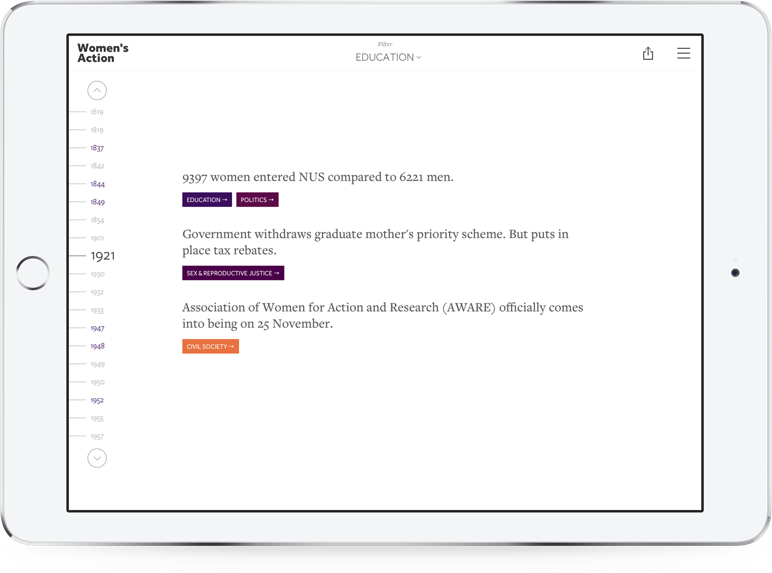 Typography has an enormous impact on user's perception, especially on readability websites and calling for a cause. We tested out different typefaces accounting for the historical content for this website with character variation, width, weight, contrast, as well the length of the text.
Throughout the article details we ideate and accounted for features that can help the user to keep the right motivation on reading the content, encouraging discovery while attracting more attention to the articles.